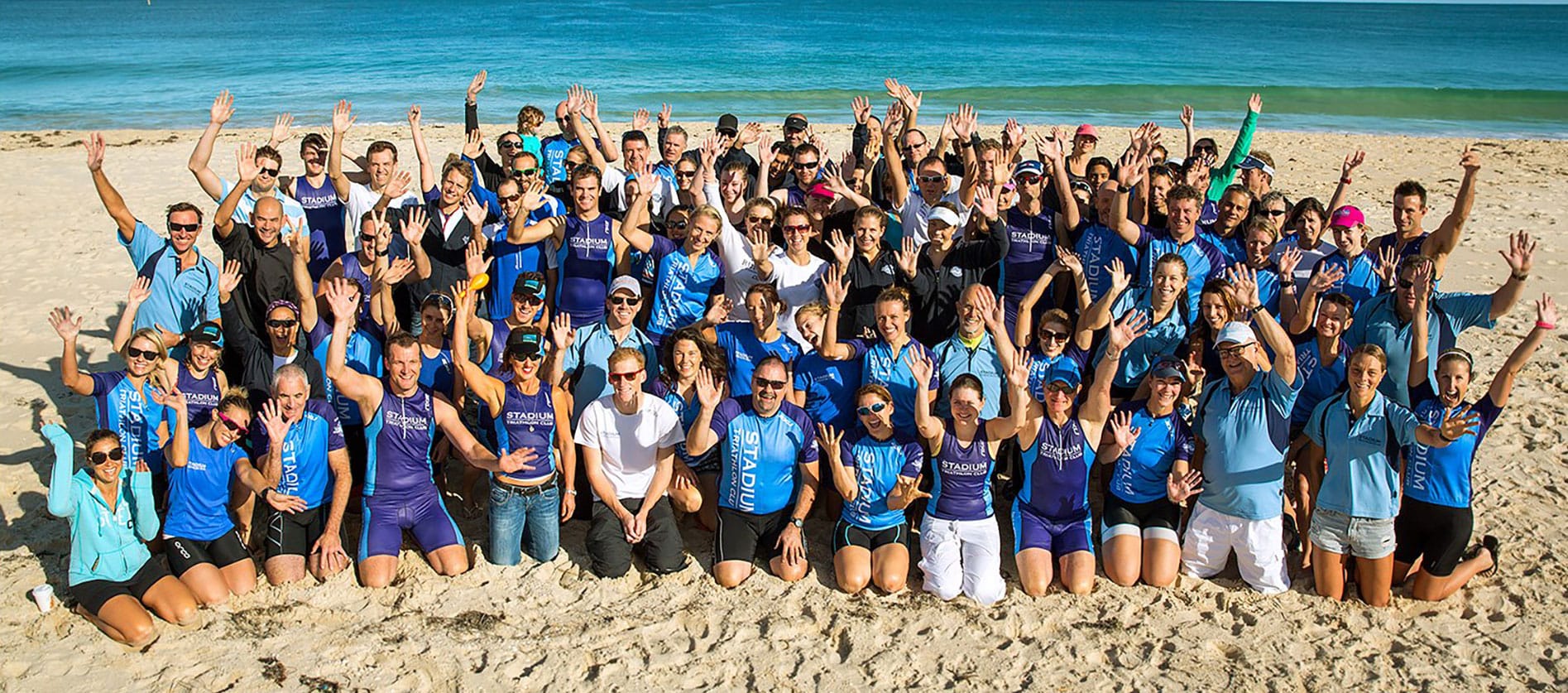 STC has a very active year round training program catering to athletes of all abilities and experience levels. We run 6-10 coached training sessions a week covering all three disciplines. The training calendar is maintained in our coaching website and updates are communicated in our weekly club newsletter which you will receive upon coming a member. It is essential that you register on our coaching page as an athlete so we have your emergency contact details to hand should we need them. Click here to create a profile. You do not need to register for the training sessions you want to attend, just turn up a few minutes before the scheduled start time and introduce yourself to the coach. Payment options for the sessions are provided on the coaching website.
Please note for insurance purposes we require athletes attending our training sessions to have a valid Triathlon Australia annual membership or trial membership. See How to Join for details on membership options.
In addition to paid, coached training sessions, the club offers a number of free training sessions every week. These sessions are usually self organised with an experienced club member kicking the session off.
The STC Summer program is outlined above. Monday and Wednesday Swims are at the HBF Stadium Facilities click here for entry rates you must pay to enter.
If you have any questions about our training sessions, please contact the coaches at coaching@stadiumtriclub.com
Visit our coaching website for more information on programs and fees.
Runs for 8 weeks from 14th October – 10th December
Ever dreamed of completing a triathlon but don't know where to start? Done a triathlon but want to take your performance to the next level? Come and learn everything you need to know about competing in triathlon with one of Perth's largest and most successful triathlon clubs. Not only will you learn the basics of triathlon, but you'll get fitter, have fun and make new friends at the same time.
The objective of the course is to build your knowledge, skills, confidence and fitness in a safe and friendly environment.
The course will include:
Introduction to the rules, equipment and race distances
How to stay safe and injury free during training and racing
Building swimming skills, fitness and open water confidence
Introduction to swimming drills and correct swimming technique
Basic bike maintenance and bike handling skills
How to pace and what and when to eat and drink on the bike and run
Building open road and group cycling confidence, skills and fitness
Introduction to running drills and correct running technique
Building running technique and fitness
How to efficiently transition between the 3 disciplines

The program cost covers:
Triathlon WA insurance to cover you while you're training
4 coached training sessions per week in February and 5 per week starting in March
Free access to all STC training sessions in case you can't make one of the novice sessions or would like to do more
A Facebook page for the group and coaches to stay in touch, answer questions and coordinate activities

What you'll need:
A bike – ideally a road bike but a mountain bike or hybrid is OK. You'll enjoy the program more with a road bike so you could consider borrowing one if you don't have one
Ability to swim 50m in the pool without stopping
Lots of energy, enthusiasm and a desire to make new friends

Terms and Conditions
As with any physical activity, if you're concerned about your ability to safely participate in the program, please consult your doctor. Please contact us stadiumtri.novice@gmail.com  if you have any questions.
The program commences on October 14th and concludes on December 10th
The preliminary schedule is as follows. You don't need to make every session but sessions early in the program (weeks 1 and 2) will generally include more discussion on skills and technique so are worth trying to get to:
Sat 7am – Bike, Kings Park
Sun week 1, 2pm – Swim analysis, HBF pool
Sun weeks 2-7, 7am – Bike/run or practice Tri, City Beach
Sun week 9, 7am – Practice Tri and celebration BBQ, Bold Park Pool
Wed 6.30pm – Swim, HBF pool
Thurs 6pm – Run, WA athletics track
Fri weeks 5-8, 6am – Open water swim, City Beach
The program cost is transferable but non-refundable. If you need to pull out you may offer your place to another athlete but we regret, we cannot provide refunds.
To sign up for the program head to our coaching website and register here. If you have any queries email stadiumtri.novice@gmail.com or coaching@stadiumtriclub.com
We cannot wait to meet you and show you the world that is tri!
STC are proud to support local triathlon events by offering structured training programs to our members to prepare them for key races. In 2016/17 we are offering programs for a number of races including Busselton 70.3, as well as our destination races in Cairns (70.3 and Ironman).
If you're targeting a race that's not covered by one of our programs our coaches also offer individualised programs tailored to your fitness and experience level and structured around your lifestyle.
In addition to specific race programs we periodically offer programs and sessions focused on a single discipline or skill as well as a program to introduce novices to the sport.
The details of our current programs are available in our coaching shop or contact the coaches at coaching@stadiumtriclub.com
What's more motivating than seeing your times improve? Join our Strava group and see how other club members are getting on!
Visit our coaching website for more info on programs and fees.
Our coaching fees are the best value in Perth. The prices and payment options for our coached sessions and training programs are available in our coaching shop. Payments can be made online via bank transfer, PayPal or credit card. We also accept cash at training sessions although you'll pay a little more this way.
Visit our coaching shop for more info on programs and fees.