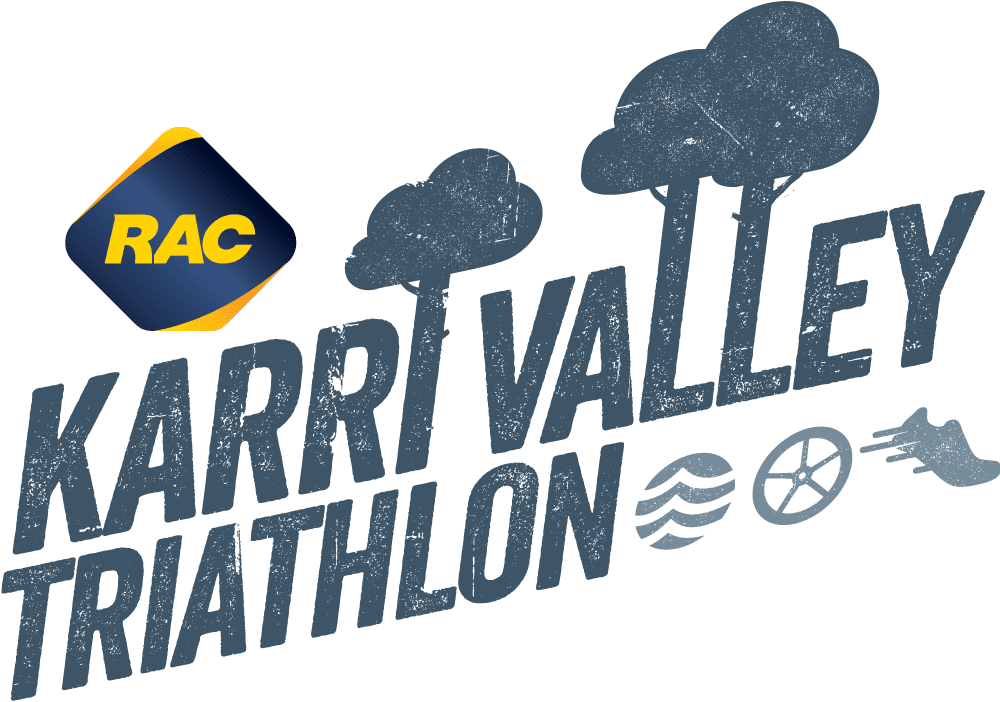 We are thrilled to announce RAC as the new naming rights sponsor for the iconic Karri Valley Triathlon. It is thanks to event sponsors RAC, Tourism WA and Shire of Manjimup, and event supporters Blueseventy, Vault Cycles, Bindi Nutrition and Masters, that our event can continue to grow and prosper.
Held at the picturesque RAC Karri Valley Resort near Pemberton, the RAC Karri Valley Triathlon showcases the beauty of WA's South West whilst providing triathletes with a unique racing experience.
Stadium Triathlon Club, in association with the RAC, has hosted the Karri Valley Triathlon annually since 2003.
The 16th RAC Karri Valley Triathlon will be held on the weekend of 23-24 March 2019.
After swimming in the clean, fresh waters of Lake Beedelup you will be challenged by the undulating bike course under the canopy of the Karri Forest, and soak up the majestic views and natural charm of the RAC Karri Valley Resort and surrounds during the road/trail run. RAC Karri Valley Resort provides the perfect setting for everyone to enjoy.
How to get to RAC Karri Valley Resort – Directions & Map
Registrations for the 2019 RAC Karri Valley Triathlon are now open.
We have two course lengths to choose from plus the RAC Little Legends Kids Triathlon for ages 7-13.
Participate individually or as a team of 2 or 3. Course lengths and pricing is as follows:
Long course – 1500m swim, 60km bike, 12km run
Individual entry $145; Team entry $170
Short course – 500m swim, 20km bike, 4km runIndividual entry $85; Team entry $105

Kids triathlon $20
Wetsuits
As the lake is fresh water with limited buoyancy and visibility, wetsuits are compulsory for all adult age group athletes. There is no wetsuit requirement for the kids triathlon. Normal Triathlon Australia rules apply for Open competitors based on water temperature on the day. If you are keen to participate but are unable to obtain a wetsuit for the race please contact Stadium Triathlon Club (stadiumtri.kvt@gmail.com) to discuss your situation and we will do our best to assist you.
Adults Long & Short Course
Little Legends Kids Triathlon
Race Weekend Information
Long and short course races commence mid-morning on Saturday following an athlete briefing, with the last long course athlete crossing the finish line mid-afternoon.
A presentation dinner is held at the resort on Saturday evening followed by live band "The Good Things" for entertainment.
The Kids Triathlon commences early Sunday morning, to allow plenty of time to travel back to Perth, but not too early so parents get to sleep in a bit.
A detailed race weekend schedule can be found in the Participant Information Guide provided to registered participants leading into the event. We've made the 2018 Participant Guide available to give you a flavour of what to expect for 2019.
Refreshments for spectators are provided on Saturday with Manjimup Senior High School running their bacon, egg and sausage sizzle fundraiser.
Volunteering
Volunteers are always needed to help out on race day and before and after the event to make the 2019 RAC Karri Valley Triathlon a great experience for our participating athletes. Volunteer roles include:
Athlete registration
Marshalling on the swim, bike and run course
Run aid stations
Finish line/recovery area
So please keep us in mind should you, a family member or a friend wish to volunteer for the 2019 event, and email stadiumtri.kvt@gmail.com to nominate as a volunteer.
RAC KVT bike course
RAC KVT bike course video to help you understand and visualise the bike course
Accommodation
Accommodation at RAC Karri Valley Resort is sold out however there is always the possibility of a cancellation so you may wish to contact the resort and check (karrivalleyresort.com.au, ph. 08 9776 2020). RAC is offering an event discount as an incentive for guests to extend their visit, with a 10% discount to apply when staying in a lakeside room for 3 nights or more.
Guests who choose to book online can use the code "Tri2019" at the checkout when booking for 3 nights or more within the triathlon weekend. For those guests who wish to book over the phone please advise reservations that you are part of the RAC Karri Valley Triathlon to obtain your 3 night discounted rate.
For alternative accommodation we recommend you search the Pemberton Accommodation Association website: pembertonstay.com.au
RAC Little Legends Kids Triathlon
This event invites children between the ages of 7-13 who enjoy swimming, cycling and running to be part of the Karri Valley weekend. All kids participate in a swim in the lake closely monitored by our in-water volunteers, then a cycle on closed internal resort roads and a run on the resort road and trails.
Course lengths will differ depending on age group:
Age 7-9: 100m swim, 2km cycle, 500m run
Age 10-13: 200m swim, 4km cycle, 1km run
Teams (2 or 3 participants 7-13 years): 200m swim, 4km cycle, 1km run
All kids receive a swim cap and participation medal.
In 2016 the kid's triathlon was moved to Sunday morning so that parents competing on Saturday can cheer their children on without having to worry about their own race. This has proven to be a hit, with RAC Karri Valley Resort offering a late check-out and other athletes coming out to support the kids before heading home themselves.
Post-Race Information
2019 race results will be posted here after the event.