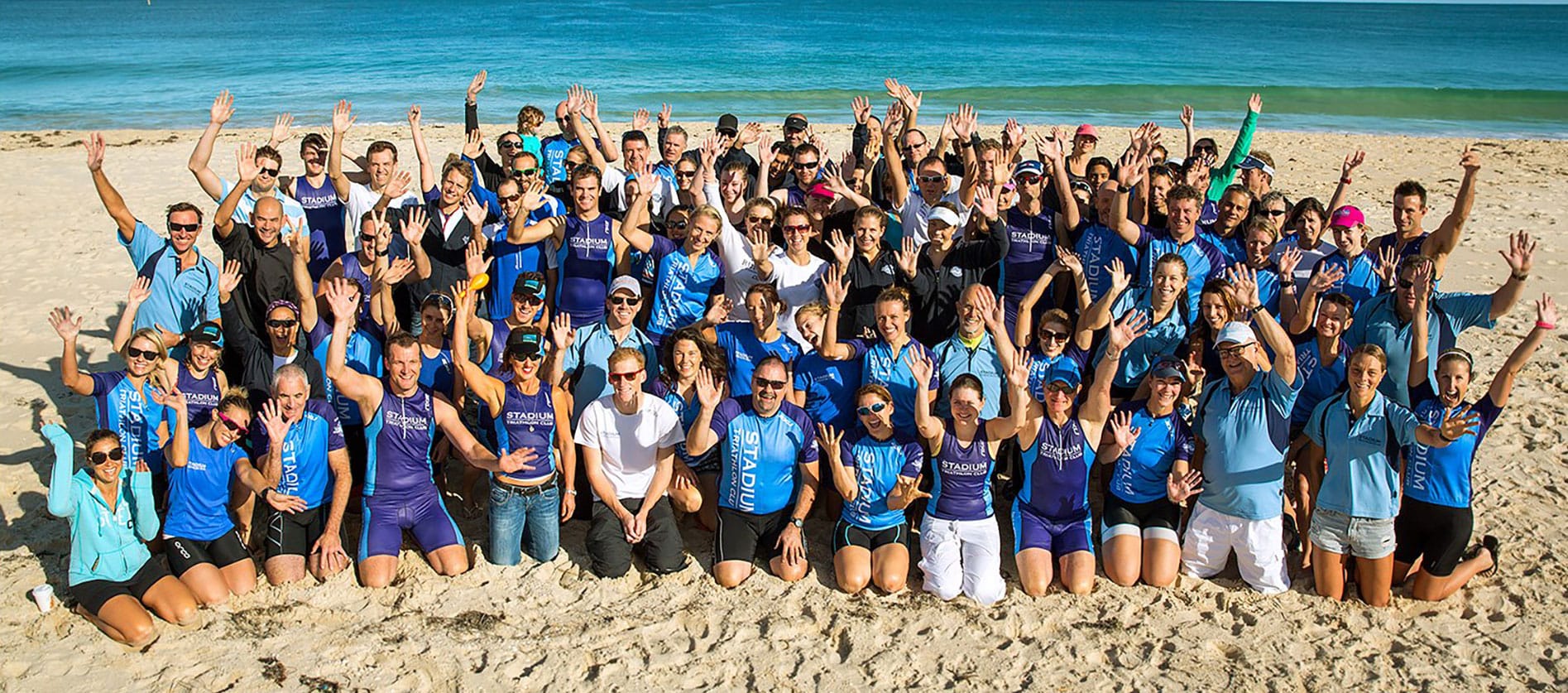 STC has a very active year round training program catering to athletes of all abilities and experience levels. We run 6-10 coached training sessions a week covering all three disciplines. The training calendar is maintained via our facebook page 'Coaching @ STC' and updates are communicated in our monthly club newsletter which you will receive upon coming a member. You do not need to register for the training sessions you want to attend, just turn up a few minutes before the scheduled start time and introduce yourself to the coach.
Please note for insurance purposes we require athletes attending our training sessions to have a valid Triathlon Australia annual membership or trial membership. See How to Join for details on membership options.
In addition to paid, coached training sessions, the club offers a number of free training sessions every week. These sessions are usually self organised with an experienced club member kicking the session off.
The STC Summer program is outlined above. Monday and Wednesday Swims are at the HBF Stadium Facilities click here for entry rates you must pay to enter.
If you have any questions about our training sessions, please contact the coaches at coaching@stadiumtriclub.com
NOVICE PROGRAM STARTS 13 OCTOBER 2018
If you are interested in becoming involved in the world of triathlons, then this course is a great place to start.
The aim of this course is for Beginners or Novices', therefore there is no set minimum fitness level for participation.   All sessions will be in a controlled environment, which means that you can go at your own pace and will never be too far from "base".
Novice Courses, conducted by clubs, have introduced over 1000 participants to the sport of triathlon and many have continued to train with the club once the course has finished. Some have gone on to compete at National and International events (e.g. Ironman Triathlons) while others simply want to enjoy the benefits of a healthy lifestyle while being surrounded by like-minded individuals.
All the disciplines of triathlon are covered (Swim, Cycle and Running) and also "transition" training (changing from one discipline to another which is also called "Brick" training).
The course includes:
Up to four coached sessions per week

1 x run

1 x swim,

1 x cycle

1 x brick session (run/bike)
To see session information for this course click here.
10-week Triathlon Australia insurance package.

Access to accredited triathlon coaches who are associated with WA Triathlon Clubs

Access to additional sessions conducted by clubs (details to be distributed during the course).

2 x Training Seminars.

Basic Bike Mechanic Session. Learn how to change a tyre, adjust your brakes and gears and keep your bike clean and running smoothly

Free Novice Shirt for the first 30 people to register

Access to other club events (such as social events and joining the  club tents at events)

Graduation Ceremony.
Venue Entry: Please note that venue entry (e.g. Pool Entry) is not included in the course cost
For more information and how to join in click here.

We cannot wait to meet you and show you the world that is tri!
Stadium Novice Course sessions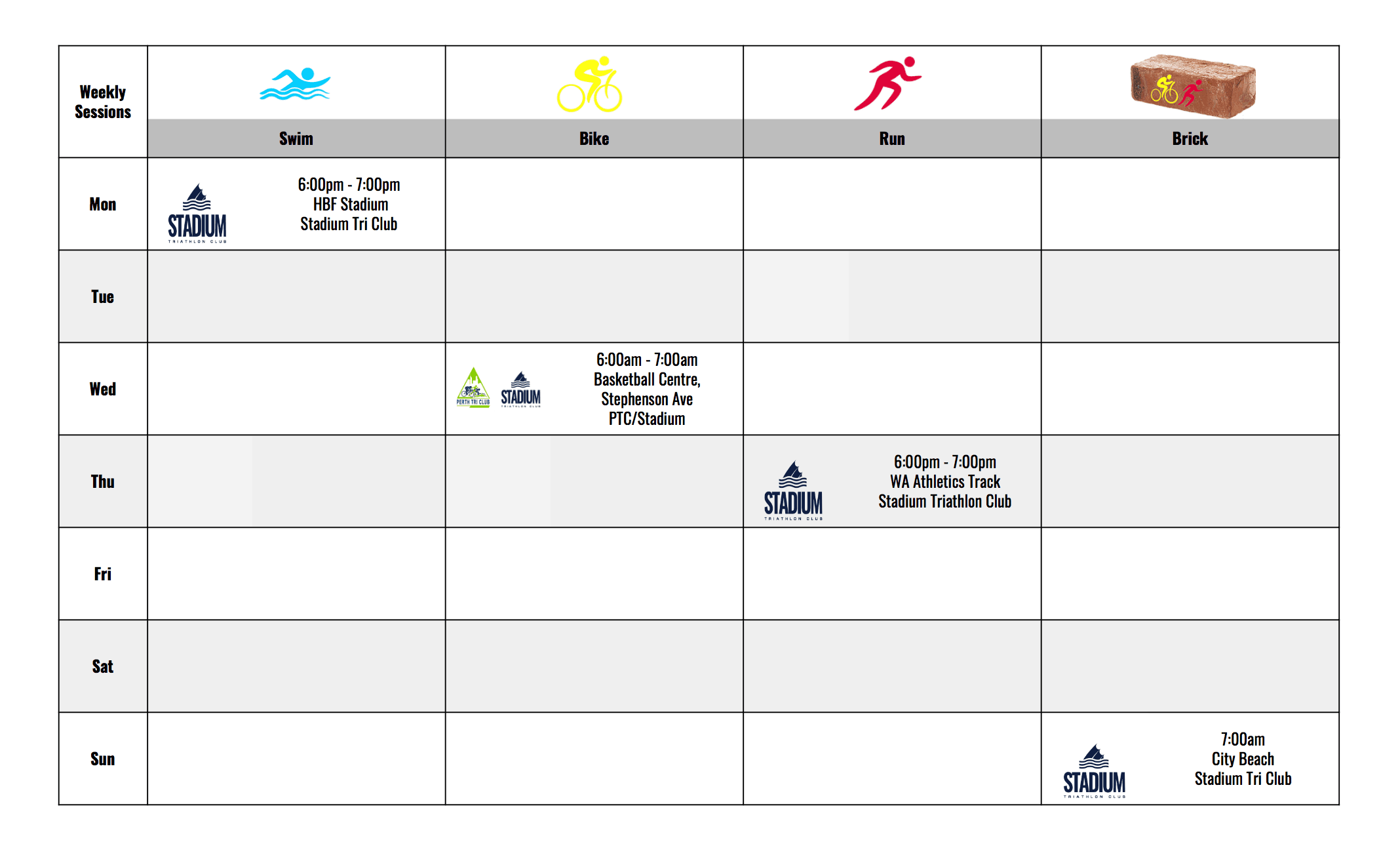 To see full session information for this course click here.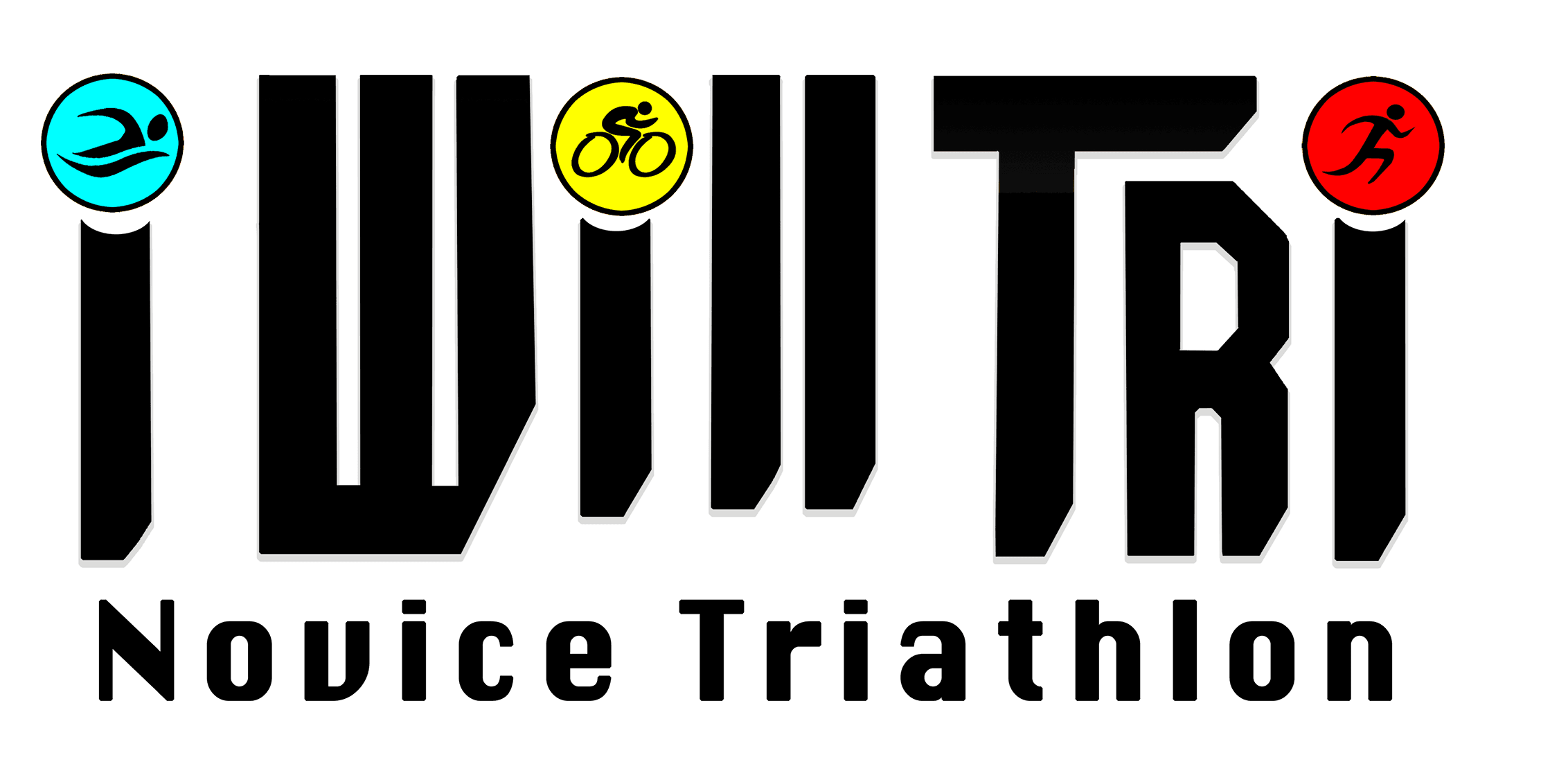 STC are proud to support local triathlon events by offering structured training programs to our members to prepare them for key races. In 2018/19 we are offering programs for a number of races including Busselton 70.3 and Busselton Ironman.
If you're targeting a race that's not covered by one of our programs our coaches also offer individualised programs tailored to your fitness and experience level and structured around your lifestyle.
In addition to specific race programs we periodically offer programs and sessions focused on a single discipline or skill as well as a program to introduce novices to the sport.
For details of our current programs contact the coaches at coaching@stadiumtriclub.com
Our coaching fees are the best value in Perth. 
$10 per session (+ pool entry & running track entry where applicable)
Payments can be made by cash or EFTPOS at training sessions.